By Jonas Wårstad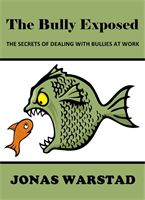 The Bully Exposed by Jonas Warstad is a complete guide to dealing with bullies in the workplace.
Filled with facts about bullying and offering doable solutions for every personality, Jonas educates us on the psychology of bullies—why they are the way they are, how to communicate with them and, most important, how to get them to stop bullying you and your coworkers.
This insightful book also introduces the reader to the "Law of Attraction" and helps us understand the role/responsibility of the victim while answering your questions about why you may be attracting workplace bullies; as well as giving you valuable, crystal-clear instruction on how to raise your self-esteem, self-worth, and self-confidence.
It is available as as kindle/e-book on Amazon.
If you prefer audio book format, here is a direct link: The Bully Exposed - Audio book
---
CONTACT