By Jonas Wårstad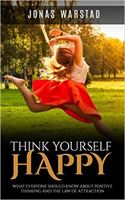 Is it really possible to think yourself happy? Yes, very much so! If you can think yourself unhappy, you can also think yourself happy!
This book will teach you all the secrets about positive thinking and the Law of Attraction (known from the book and film The Secret).
You will learn how to avoid the most common mistakes that people make when trying to think positively and applying the Law of Attraction.
You will learn no less than 21 ways to deal with negative thoughts and feelings – and much more!
Today is the first day of the rest of your life. Today is also the perfect day for you to form new, positive habits. A new and positive life. Because you're worth it!
It is available as as kindle/e-book on Amazon.
If you prefer audio book format, here is a direct link: Think Yourself Happy - Audio book
---
CONTACT